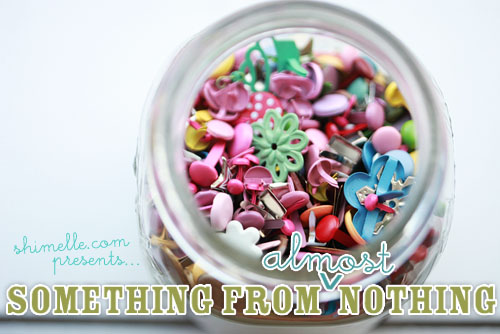 I just signed up for an online class called Something From almost Nothing.  It is being taught by Shimelle.  I just discovered Shimelle and I'm so glad I did!  This class will challenge us to use items that we already have in our stash of paper crafting supplies.  And what a stash I have!  Shimelle gave us a pre-challenge to take a picture of part of our stash and blog about it.  I have a lot of these three items- flowers, metal embellishments and paper.  Here are some pictures:

This is a drawer full of eyelets, brads, scrappers floss, rhinestones...

Paper, paper and more paper!
    I've got a lot of supplies that need to be used.  They are just so pretty, though!  Once you use it, it's gone...Ok, so I have some issues to work through.  :)  I think Shimelle's class will be very beneficial.  Be sure to check back through the month of March to see how I'm doing!